Posts: 3302
Joined: Fri Sep 27, 2013 2:48 pm
Has thanked: 219 times
Been thanked: 130 times
Cute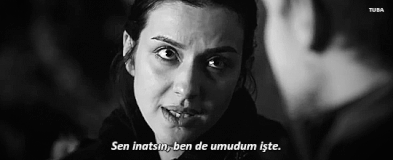 Daha o gün anlamıştım Feride, ben ömrümce seninle sınanacaktım .Yakub'un Yusuf'la İbrahim'in İsak'la Habil'in Kabil'le sınandığı gibi . Sen koca bir yalnızlığı bense sensizliği bardak bardak içecektim.
---
I finally was able to watch the finale. I loved every moment of Selin and Demir, they were so cute especially the proposal scene. I loved that they both wanted to propose to eachother
. I loved watching the scene of Selin playing with Demir without even realizing it, poor man really thought they were going to sleep together
.
I am going to miss this show because of Aybuke and Furkans chemistry, they portrayed their characters so well, especially Furkan he really made me pay attention to him as an actor with this role
.Overall this show was a beautiful love story that had a good number of episodes even though I wish they had one or 2 more that would give them a chance to explore Demir meeting Selin's parents and Demir meeting his father again, but I will take what I can get
.
I am going to leave you guys with the link of the blog I love
, she explains the show so beautifully.
https://www.mh-musings.com/post/her-yer ... s-analysis
---